INNOVATIVE QUALITY FREE OF COMPROMISE
EASY
All VitalBulk™ products and packaging are fully compliant with:
United States Dietary Supplement Good Manufacturing Practices
United States Dietary Supplement Labeling Regulations
California Proposition 65 Compliant / FDA Compliant Best Before Dated
Ready to dispense the most popular nutritional pills directly into any bag or other container. The Secondary containment tube pre-measures approximate quantities to ensure you get what you want
GREEN
VitalBulk™ systems reduce packaging costs and materials for dietary supplement pills.
Eliminating individual pill bottles and caps mean significantly reduced packaging material and carbon footprint per pill.
Less packaging means more "green" in your pocket
CLEAN
VitalBulk™ systems ensure that dietary supplements are never exposed to the open store environment after being sealed in the factory, with no potential contamination from handling by retail store personnel or retail consumers. Individual consumers dispense their desired pills directly into their choice of bag or other container.

OUR PRODUCTS
Gallery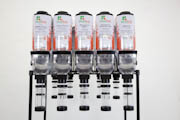 Look at our gallery for a better look at our products and revolutionary system.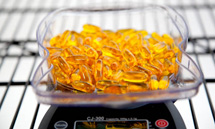 Natural Products Association Member
FDA Registration Number 19379333774